UPDATE: New video added
A Qantas A380 superjumbo has made an emergency landing in Singapore after one its engines seemingly blew up in mid-flight. Both Airbus  and Rolls Royce, which manufactured the plane's four engines, have launched investigations.
One of the Airbus A380's four engines failed minutes after it had left Singapore for Sydney, terrifying passengers who said they heard a loud bang and saw parts of the engine fall off. Australian officials said no one on board the flight, which began in London and was carrying 459 people, was injured.
Qantas, which operates six A380s, said it was grounding the aircraft pending a full investigation. Three A380 flights scheduled for Thursday, one originating in Sydney and two in Los Angeles, have been stopped.
A380s can operate safely on just two engines and some experts say there was no real danger. But others caution that it was more potentially dangerous than it might first appear, particularly given that sections of the blown engine could have caused more damage to the wing and that controls for the adjoining engine seem to have been damaged. "It sounds like it might have been pretty hairy stuff. I wouldn't be surprised if it turns out the crew did an exceptional job landing the plane," one aviation analyst said.
They are rare, and when they do take place they tend not to cause fatalities. A lot of this is due to changes introduced after the tail-mounted third engine of a United Airlines DC-10 blew up in 1989, hurling debris through hydraulic lines and crippling the plane's controls. The plane broke up on landing at Sioux City, Iowa, killing 112 of the 296 passengers and crew on board. Since then airlines have been designed so such engine blowouts are less likely to damage control systems.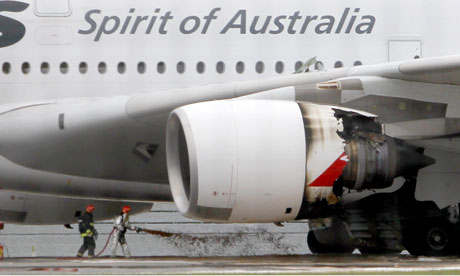 Parts of the engine being collected in Batam, Indonesia.
Passenger Video:
Incoming search terms:
a380 engine failure (13)
qantas airways a380 (4)
Qantas Airways/A380 (3)
engine failure plane (3)
Quanta A380 (3)
airbus a380 engine failure (3)
qantas airways engine failure (3)
qantas 380 engine failure (2)
airbus a380 engine failure update (2)
Quantas A380 engine failure (2)
Similar Posts: